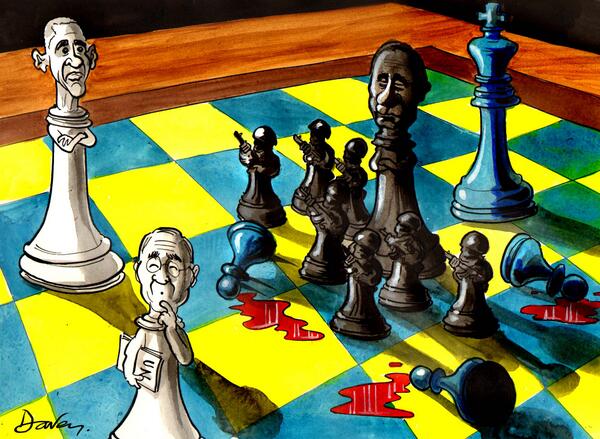 The World Health organization estimates that the West African Ebola outbreak could exceed 20,000 cases, more than 6 times as many as doctors know about, while a new plan outlined by the U.N. health agency takes into account that the in hardest hit areas the actual number of cases is two to four times higher than reported, John Heilprin and Krista Larson report, UN: Ebola cases could eventually reach 20,000. The agency on Thursday published new figures reporting 1,552 people have died from among 3,069 cases reported so far in Liberia, Sierra Leone, Guinea and Nigeria. The U.N. health agency said at least 40 percent of the cases are from the last three weeks alone adding that "the outbreak continues to accelerate." Nigerian authorities said a man who contracted the virus following contact with a traveler from Liberia evaded surveillance and infected a doctor in southern Nigeria who died, making it the first of 6 deaths reported in Nigeria to occur outside the commercial capital of Lagos where American man Patrick Sawyer arrived in late July and later died of Ebola. On Wednesday, Nigeria authorities said they have not eliminated but contained the virus. Health Minister Onyebuchi Chukwu told reporters: "After four days, following a manhunt for him, he returned to Lagos by which time he was found to be without symptoms. This case would have been of no further interest since he had completed the 21 days of surveillance without any other issue but for the fact that the doctor who treated him died." The doctor's wife along with the morticians who embalmed the doctor are part of a group of 70 people under surveillance in Port Harcourt. Carolyn Thompson reports, Ebola in mind, US colleges screen some students, college students from West Africa may be subjected to extra health checks when they arrive to study in the United States as administrators try to insulate campuses from the worst Ebola outbreak in history. Several thousands students are arriving from Guinea, Liberia, Sierra Leone and Nigeria putting U.S. authorities on alert but cautioning against alarm. While the Center of Disease Control and Prevention has no specific recommendations fro colleges, some state health departments are spelling out what to look for and how to react. In addition universities are drafting their own precautionary plans against the disease. The American College Health Association recommends their members update emergency plans, find out where patients have traveled and use isolation rooms when available. The federal government says U.S. universities count 9,728 active students from Nigeria, 204 from Liberia, 169 from Sierra Leone and 95 students from Guinea. The roughly 30 Nigerian students at University of Illinois will be pulled aside for temperature checks and private Ebola discussions when they arrive at the health center for mandatory immunization paperwork and tuberculosis screenings, according to the center's director, Dr. Robert Palinkas. Similar screening will also take place at the University at Buffalo, Mercer University in Georgia, Liberty University in Lynchburg, Virginia, and the University of Akron in Ohio. Universities in the United Kingdom will also be on alert as thousands of Nigerian students arrive there and Universities UK has circulated guidance from Public Health England advising administrators on how to recognize and react to possible cases.
Meanwhile, on Thursday, the Islamic group killed more than 150 troops captured in recent fighting for military bases in northeastern Syria in the past 24 hours by shooting some and slashing others with knives in the latest mass killing, while in southern Syria, gunmen detained 43 U.N. peacekeepers fighting on the Syrian side of Golan Heights early Thursday, Ryan Lucas and Zeina Karam reports, Islamic state group kills captured Syrian soldiers. In addition, the Britain based Syrian Observatory for Human Rights said 81 peacekeepers were trapped in the area due to heavy fighting between rebels and Syrian troops. Many of the soldiers that were killed were rounded up Wednesday in the arid countryside near Tabqa airfield three days after fighters seized the base. In Iraq, the group killed nearly 200 men in late June near the northern city of Tikrit and like the recent slaughter posted videos and photos online of the men before and after the killings. Earlier in the month, Islamic State fighters shot and beheaded hundreds of tribesmen in eastern Syria who had risen up against the group. A U.N. commission has accused the Islamic State group Wednesday of committing crimes against humanity in Syria same as in Iraq. So far, the bloody conflict in Syria has cost more than 190,000 loves and destabilized the region. In a statement by the Syrian Foreign Ministry, the government holds "the terrorist groups and those who support them fully responsible for the safety of the U.N. peacekeepers, and calls for their immediate release." A statement from Ban's office said the U.N. "is making every effort to secure the release of the detained peacekeepers." As of July, UNODF had 1,223 troops from six countries including Fiji, India, Ireland, Nepal, Netherlands and the Philippines. A rebel spokesman said the opposition is fighting President Bashar Assad and poses no threat to Israel. The Associate Press reports, 44 Fijian soldiers held captive by rebels in Syria, that 44 soldiers working as U.N. peacekeepers remain captive in Syria Friday while 75 Philippine soldiers were in tense standoffs with militants, the two nations reported. Fijian Commander Brig. Gen. Mosese Tikoitoga said he's been informed his soldiers are alive and unharmed, while Philippines President Benigno Aquino III said that his troops are not in immediate danger. The events began Thursday morning o the Syrian side of Golan Heights, an area divided between Israel and Syria. Tikoitoga said three vehicles filled with 150 armed rebels converged on the Fijian camp at 7:30 a.m. demanding the soldiers leave within 10 minutes and insisted they board the rebel vehicles. The Fijians were taken to an unknown location then returned to their original post. U.N. Secretary General Ban Ki-moon on Friday condemned the detention of the Fijians: "I call for their immediate and unconditional release as well as action for the scores of peacekeepers from the Philippines who are also affected." Tikoitoga said: "We will not shy away from that responsibility under these circumstances. We will continue to work very hard for the release of our men and at the same time we will put all our men on alert to ensure that no further incidents of this sort happen to them."
In the United States, President Barack Obama on Thursday said "we don't have a strategy yet" for dealing with the violent militant group seeking to establish a caliphate in the Middle East, Julie Pace reported, Obama tamps down prospect of strikes in Syria. The president spoke shortly before a meeting with his national security advisers on a range of Pentagon options for confronting the group and said his strategy will require not only military action but regional strategy that include political support from other countries in the region. Obama said, hinting to the group's announcement last week it had killed American journalist James Foley and threatened to kill other U.S. hostages: "They have no ideology beyond violence and chaos and the slaughter of innocent people." The U.S. already is striking Islamic State targets in Iraq and the president is considering similar action in Syria in the wake of Foley's death as militants move between the two countries with ease. The main focus, however for now, the president said Thursday was to roll back militant gains in Iraq where they pose a threat to U.S. personnel in Ebril and Baghdad. Obama said any military action will be discussed with members of Congress when they return to Washington in early September. "The suggestion has been that we'll start moving forward imminently and somehow Congress, still out of town, will be left in the dark. That's not what's going to happen," Obama said. Ryan Gorman reports, Britain raises terror threat level, will begin revoking passports of those who travel to Syria, British Prime Minister David Cameron announced Friday at a press conference that U.K. authorities will soon revoke passports of citizens traveling to Syria. Cameron declared: "We are in the middle of a generational struggle against a poisonous extremist ideology." British authorities raised the terror threat level Friday to one below critical, the highest alert, as it felt an attack is likely. Cameron explained: "What we're facing in Iraq and Syria now with ISIL is a deeper and greater threat to our security than we have ever known before. Islam is a religion observed peacefully by over a billion people. Islamist extremism is a poisonous ideology observed by a minority. [ISIL is] a terror threat seeking to establish and then violently expand its own terror state. We could face a terrorist state on the shores of the Mediterranean and bordering a NATO state." Cameron emphasized that Britain will not send in ground troops, but will provide intelligence to the U.S. while they conduct airstrikes in the region and provide humanitarian air drops as well as help arm Kurdish forces in their fight against the terror state. He said: "We support the U.S. airstrikes aginst ISIL in Iraq. Even if you solve the problems, of ISIL, Iraq and Syria – you still have the problem of poisonous Islamist extremism."
Meanwhile in eastern Europe, Ukraine's president called an emergency meeting of the nation's security council Thursday to declare that "Russian forces have entered Ukraine" as concerns grow of a new front in the conflict, the Associated Press reports, Strategic Ukraine town under rebel control. President Petro Poroshenko convened the meeting as the southeastern Ukraine town of Novoazovsk appeared firmly under the control of Russia backed separatists. Russian markets took a dive as fears grew that the country has escalated its role in the conflict which could provoke U.S. and European Union to impose more sanctions on Russian businesses and individuals. Poroshenko said: "I have decided to cancel my visit to Turkey because of the sharp escalation of the situation in the Donetsk region… as Russian forces have entered Ukraine." The Associated Press explains what such a move could mean and why Novoazovsk is a strategic move: "The new southeastern front raised fears that the separatists are seeking to create a land link between Russia and Crimea. If successful, it could give them or Russia control over the entire Sea of Azov and the gas and mineral riches that energy experts believe it contains. Ukraine already has lost roughly half its coastline, several major ports and significant Black Sea mineral rights in March when Russia annexed Crimea." In a statement, Donetsk city administration said 11 people were killed by shelling during the night. The U.S. government accused Russia of the new military campaign in Ukraine that is helping rebel forces expand their fighting and sending in tanks, rocket launchers and armored vehicles. "These incursions indicate a Russian-directed counteroffensive is likely underway in Donetsk and Luhansk," State Department spokeswoman Jen Psaki said Wednesday. She cited reports of burials in Russia for those who died in Ukraine and wounded Russian soldiers being treated in St. Petersburg hospital. The same day, the U.N. Security Council met in an emergency meeting to discuss the Ukraine crisis, according to the Associated Press, U.N. Security Council meets on Ukraine crisis. U.N. undersecretary-General of Political Affairs Jeffrey Feltman told the members that the latest developments mark a "dangerous escalation in the conflict," but the international body had no way of verifying the latest "deeply alarming reports." Statements from NATO, Poroshenko ,the separatists, the United States and the president of the Security Council left no doubt that Russia had invaded Ukraine. A NATO officials said 1,000 Russian troops have entered Ukraine with sophisticated equipment and have been in direct contact with Ukrainian soldiers resulting in casualties. U.S. Ambassador Samantha Power tld the council: "Every single one has sent a straightforward, unified message: `Russia, stop this conflict. Russia is not listening.' Russia has come before the council to say everything but the truth. We will continue working with G-7 partners to rachet up consequences on Russia." UK Ambassador Mark Lyall Grant told reporters: "Russia will be asked to explain why Russia has its troops inside Ukraine. It's very clear that Russian regular troops are now in Ukraine."
President Barack Obama on Thursday said the U.S. night impose new economic sanctions on Russia blaming the warfare in eastern Ukraine solely on them and ruled out military options or proposed no shift in American led strategy to convince Moscow to halt its operation, Bradley Klapper, Obama puts Ukraine violence squarely on Russia. Obama spoke via phone with German Chancellor Angela Merkel, who has led diplomatic efforts to end the fighting between Ukraine and Russian backed rebels: "We agree, if there was ever any doubt, that Russia is responsible for the violence in eastern Ukraine. The violence is encouraged by Russia. The separatists are trained by Russia, they are armed by Russia, they are funded by Russia. Russia has deliberately and repeatedly violated the sovereignty and territorial integrity of Ukraine, and the new images of Russian forces inside Ukraine make that plain for the world to see." Russia continued to deny allegation saying there is no proof its troops are operating in Ukraine. Obama said regarding his strategy: "What we're doing is to mobilize the international community to apply pressure on Russia. But I think it is very important to recognize that a military solution to this problem is not going to be forthcoming." On Friday, Russian President Vladimir Putin called on pro-Russian separatists to release Ukrainian soldiers in eastern Ukraine, according to Nataliya Vasilyeva, Russia's Putin urges release of Ukrainian soldiers. Putin's statement came hours after Ukraine accused Russia of entering the territory with tanks, artillery and troops, and Western powers accused Moscow of lying about its role and dangerously escalating the conflict. In his state released early Friday published on the Kremlin's website, Putin said: "I'm calling on insurgents to open a humanitarian corridor for Ukrainian troops who were surrounded in order to avoid senseless deaths." Putin did praise the efforts by what he called "insurgents" against the Kiev government, but did not address the accusations. A top rebel leader, Alexander Zakharchenko said on Russia's state Rossiya 24 televisions: "With all our respect to Vladimir Vladimirovich Putin, the president of a country which gives us moral support, we are ready to open humanitarian corridors to the Ukrainian troops who were surrounded with the condition that they surrender heavy weaponry and ammunition so that this weaponry and ammunition will not be used against us in future." The U.N. human rights office said Friday the death toll stands at 2,220 in eastern Ukraine with a rate of three dozen a day and accused both sides of deliberately targeting civilians. Vasilyeva reports: "Pro-Russian rebels in Ukraine have carried out murders, torture and abductions along with other serious human rights abuses and violations of international humanitarian law, according to the mission's field work between July 16 and Aug. 17. The report also said Ukraine's military is guilty of human rights violations such as arbitrary detentions, disappearances and torture." U.N. Assistant Secretary for Human Rights Ivan Simonovic who visited Kiev Friday said the death toll reached 2,600 by Aug. 27 and described the humanitarian situation in eastern Ukraine as alarming. European Union foreign ministers met in Milan Friday to weigh the 8 nation bloc's stance on beefing up economic sanction against Russia in order to prepare for further steps to be announced at the summit of the bloc's leaders Saturday in Brussels.